2021年12月1日,由单体锋副研究员(第一作者)撰写的裙带菜选育的综述文章在国际期刊Frontiers in Genetics在新发表(https://www.frontiersin.org/articles/10.3389/fgene.2021.801937/full)。
在本文中,作者回顾了与裙带菜品种培育相关的研究,包括特殊的生活史报导,遗传学、转录组学和基因组学报导,以及主要的品种育种方法,探讨了裙带菜育种的未来方向。
Undaria pinnatifida is the commercially second most important brown alga in the world. Its global annual yield has been more than two million tonnes since 2012. It is extensively cultivated in East Asia, mainly consumed as food but also used as feed for aquacultural animals and raw materials for extraction of chemicals applicable in pharmaceutics and cosmetics. Cultivar breeding, which is conducted on the basis of characteristics of the life history, plays a pivotal role in seaweed farming industry. The common basic life history shared by kelps determines that their cultivar breeding strategies are similar. Cultivar breeding and cultivation methods of U. pinnatifida have usually been learned or directly transferred from those of Saccharina japonica. However, recent studies have revealed certain peculiarity in the life history of U. pinnatifida. In this article, we review the studies relevant to cultivar breeding in this alga, including the peculiar component of the life history, and the genetics, transcriptomics and genomics tools available, as well as the main cultivar breeding methods. Then we discuss the prospects of cultivar breeding based on our understanding of this kelp and what we can learn from the model brown alga and land crops.

Keywords: kelp, Laminariales, seaweed, brown alga, cultivar breeding, wakame, genetic improvement, life history
Citation: Shan T and Pang S (2021) Breeding in the Economically Important Brown Alga Undaria pinnatifida: A Concise Review and Future Prospects. Front. Genet. 12:801937. doi: 10.3389/fgene.2021.801937
Received: 26 October 2021; Accepted: 17 November 2021;
Published: 01 December 2021.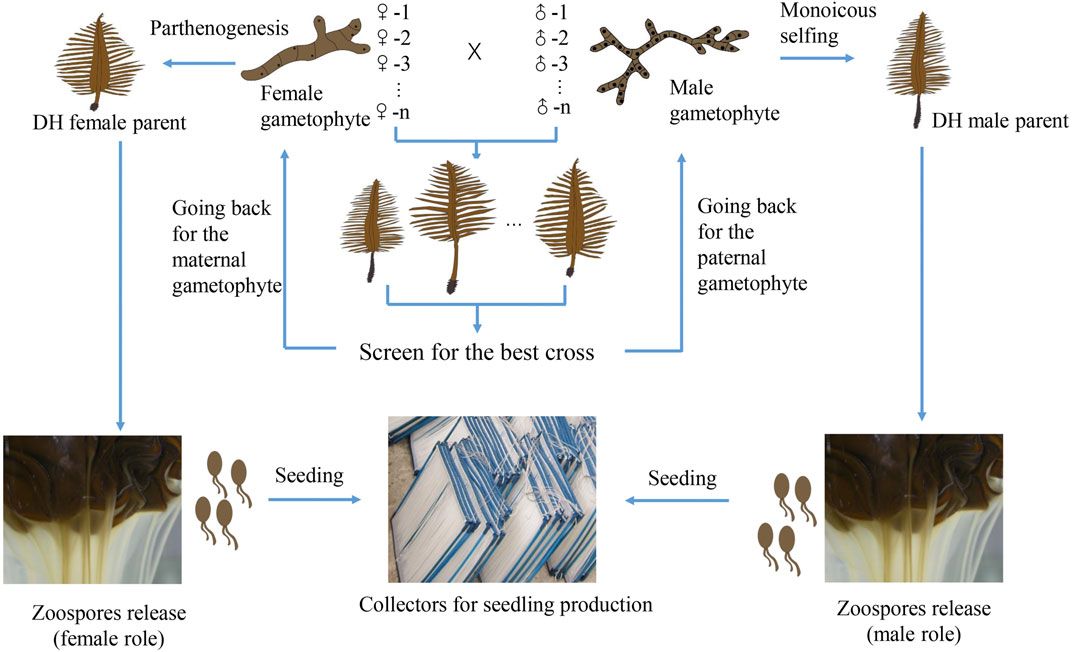 Fig Schematic representation of line breeding (pair cross between gametophyte lines) and scaling up its application by exploiting monoicous and parthenogenetic phenotypes of certain parental gametophytes. After we screen for the best cross (with desirable traits), we go back for the corresponding paternal and maternal gametophyte lines. If either of them has the monoicous or parthenogenetic phenotype, DH sporophytes can be obtained. Hence, large quantities of zoospores can be utilized for seeding, followed by large-scale seedling production.